Hybrid Cloud

: The best of the private and public worlds

How to operate efficiently in the hybrid cloud?
What is the hybrid cloud?
Enterprises use many applications to support their business on a daily basis, and they need different cloud deployment models to host their diverse applications. Hybrid cloud has become a common trend but its definition is still a matter to brood over. In simplified terms, hybrid cloud services combine both public and private cloud services, with their on premise infrastructure.
Benefits of a hybrid cloud approach:
The main use case is to run most virtual machines in a private cloud. This is less expensive and allows for greater control. When organizations don't need flexibility, they use highly available, 24-hour virtual machines.
Nonetheless, companies use the public cloud for its flexibility by processing less sensitive transactions there and keeping more sensitive data in-house (on private servers).
The hybrid cloud also allows companies to adapt quickly, especially during traffic spikes.
This model is highly flexible and offers a good balance of security, compliance, scalability and cost effectiveness.
Examples of hybrid cloud infrastructures
Amazon Web Services (AWS), Microsoft Azure, Google Cloud Platform (GCP), etc… are some common examples of providers that offer public cloud hosting. You can combine their solutions with an internal private cloud to get a hybrid cloud architecture.
For example, the scalability offered by the hybrid cloud has totally transformed the way e-commerce sites operate today. Let's say you have an e-commerce site that experiences increased traffic on certain days of the week. With a hybrid cloud model, you can increase your resources only during high traffic periods. That way, you'll only pay for those services. This makes a hybrid cloud-based system much more cost-effective than the traditional on-premises scenario by helping the business meet the changing demands of its peak season.
In fact, many industries could greatly benefit from a hybrid cloud infrastructure such as healthcare, financial institutions, government agencies, education, retail, etc….
Let's take a deeper dive into the two types of cloud that make up the hybrid approach.
Public cloud
A service provider operates the public cloud. In this case, you don't host the cloud itself, but you rent a service, accessible via the Internet. Different use cases are offered in a public cloud environment: such as application deployment, file hosting, backups, emails. A good example of a SaaS offering hosted in a public cloud is MicrosoftTM Office 365®. For application deployment, the leaders are AWS (Amazon), Azure (Microsoft) and GCP (Google). Alibaba Cloud has a significant market share, but with a strong concentration in Asia.
By 2022, public cloud services will be critical for 90% of enterprise innovation.
Public cloud benefits:
The "Pay as you go" pricing model is primarily used. This pricing model provides flexibility and ensures that your applications are scalable, so they can handle traffic spikes.
Since the most common public cloud providers, such as Amazon, Microsoft and Google, have huge infrastructures, they allow applications to scale almost infinitely over the long term. Volumetric anti-DDoS protections are also much more powerful in a large public cloud environment.
Private cloud
Private cloud services are the counter-model to the public cloud. Often, companies favor this model for sovereignty reasons and continue to operate their own IT resources.
A private cloud can be managed by a third party if the organization doesn't want to do it themselves, or doesn't have the skills. Or companies don't want to host an application on a public cloud. The private cloud is less flexible than the public cloud, since you can't expand it infinitely; you'll be limited by the total resources of that private cloud, which is obviously less than with AWS, Azure or GCP.
At the same time, the private cloud might be cheaper than a virtual machine running all day in a public cloud. With a public cloud, you pay the price for its flexibility. Sometimes, depending on the private cloud provider you choose, you have to host a lot of applications to get a cheaper virtual machine in a private cloud. This is a very common strategy for businesses.
Private cloud does not mean: no security issues
Also, deploying a private cloud doesn't mean you won't have security issues. You still need to manage hypervisor security, because its attack surface is huge. Hackers accessing this layer can gain access to multiple virtual machines installed on its host server. This could gradually compromise the entire virtualized environment. Those with a public cloud setup have much more control over this situation. Amazon, Microsoft or Google offer a faster response and are better equipped to keep your hypervisors secure.
Benefits of the private cloud:
Businesses can control and scale their infrastructure as needed.
The private cloud model is more secure and reliable for companies that want to protect their critical business operations and sensitive data in the private servers of an on-premises data center. With the private cloud, if you are an EU citizen, you can know exactly where your data is hosted, how it is handled and protected, thanks to the General Data Protection Regulation (GDPR).
What would be a good hybrid strategy for clouds?
Having a well-defined hybrid cloud strategy is crucial to the effectiveness of any business. Moving to a hybrid cloud model could be costly and difficult. To help the business save time and money during the transition, you must decide how to scale and move your workloads between different cloud environments.
There could be two ways to do this.
First, you could balance the same application across internal and external cloud environments, reducing costs and increasing their resiliency.
You can also assess your initial workload. Then prioritize the appropriate applications to migrate to the public cloud, based on the criticality of the applications and the costs involved. That way, you can do what's right for your applications.
Another option might be to deploy the critical part of an application on the public cloud. And so you would leave the more critical part in a database within the private cloud.
Hybrid cloud architecture and deployment
It is important to create a consistent architecture to synchronize data across the internal structures of both cloud environments. You need to standardize everything into a common operating environment. Deploying your hybrid cloud could be done in two ways.
First possibility
You could combine your on-premises infrastructure with a public cloud (Figure 1.1). After setup, you could use a cloud load balancer to spread the load across the two regions. If you have multiple application instances, things could get complicated and it is always safer to deploy the WAF close to the application.
You can make it easier to protect your application in the public cloud by using UBIKA Web Application Firewall, deployed on public marketplaces (such as AWS, Azure and GCP).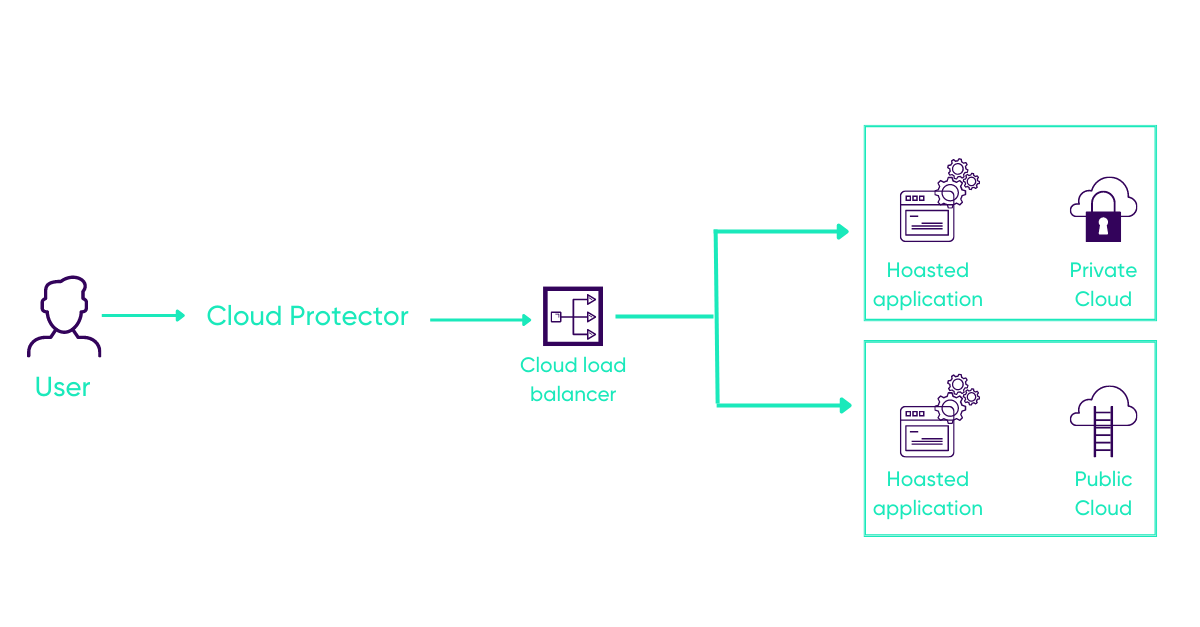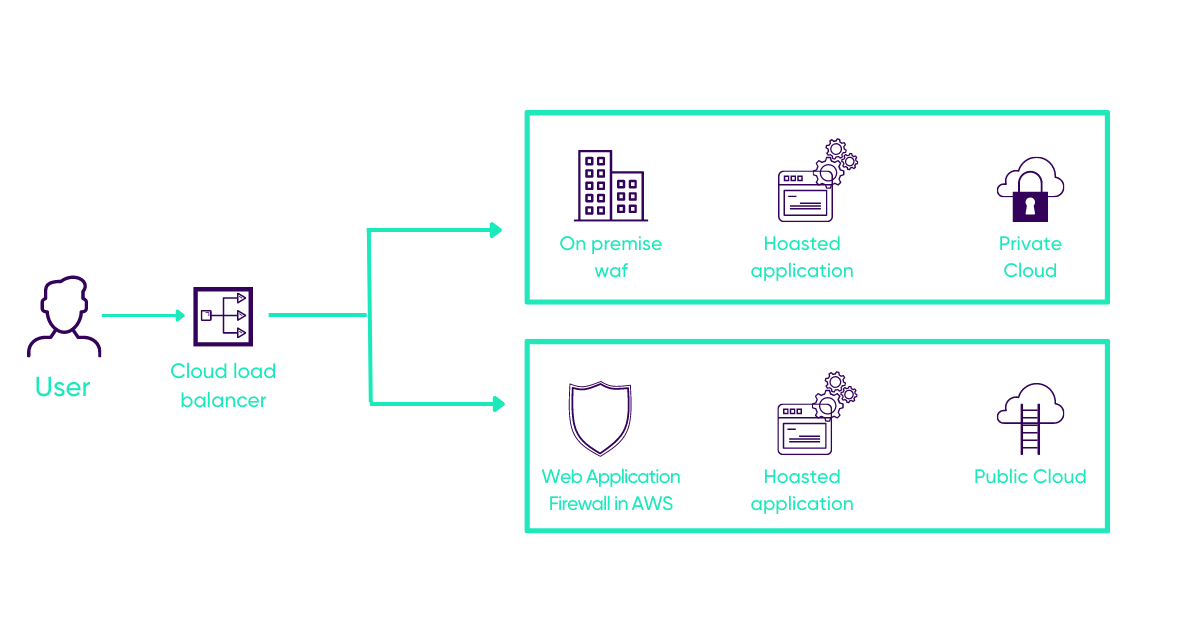 Second possibility
The other possibility would be to combine a private cloud with a public cloud (Figure 1.2). In cases where the same application resides in both the public and private cloud, a SaaS WAF like UBIKA Cloud Protector would be ideal for managing security effortlessly.
The disadvantages of the hybrid cloud
Working in a hybrid cloud presents several challenges.
The overall architecture can be a complicated project to implement and manage. It can also involve a lot of internal expense.
If the same application runs on multiple environments, you can't take full advantage of the benefits that a particular cloud environment offers. This phenomenon only leverages non-platform functionality.
Implementing security is not an easy task. If any part of the public cloud was compromised, it would gradually put sensitive applications in the private cloud at risk.

However, there are more advantages than disadvantages to working in a hybrid cloud. If you are not sure how to proceed, the best way is to contact hybrid cloud architecture experts. They can help you reap the long-term benefits of a hybrid cloud environment, while keeping the risks at bay. You can do this in a few steps. However, make sure you're not tied to a specific cloud platform.

Looking for a place to host your applications in the cloud?

Contact the experts at UBIKA to consider your resources, scalability needs, ease of migration and integration. Our team will help you successfully implement a hybrid cloud environment. But also, you'll get superior protection for your hybrid cloud architecture with UBIKA Cloud Protector, a true SaaS platform.