SaaS Cloud

: what is it? Why choose Cloud Protector?
Definition of SaaS
What is SaaS
Software as a service is the most prevalent form of cloud computing where a cloud provider offers licensed software on a subscription basis (monthly subscription or annual, for example based on the number of users) and hosts it centrally on the internet for enterprises.
The difference IaaS, PaaS, SaaS
The public cloud is built on the following three service levels: infrastructure as a service (IaaS), platform as a service (PaaS) and software as a service (SaaS). These three service levels provide a virtualized IT infrastructure. Like all cloud services, they can be dynamically adapted to specific user needs.
Infrastructure as a Service (IaaS)
This level is sort of the foundation, as hardware resources or compute instances such as memory or processors are available virtually and can be added or reduced at will. In many cases, the term virtual data center is therefore also commonly used.
Benefits of IaaS:
It saves money. Since hardware is particularly expensive to purchase, it must be set up with IT security in mind. In addition, it becomes obsolete very quickly. Moreover, the management of hardware implies the management of spare parts and adequate RMA. Updating obsolete hardware involves time-consuming software migration, which can be avoided with IaaS. This is why virtualized IT resources, delivered on demand, are very attractive to enterprises.
Cloud service providers allow customers to pay as they need and scale resources as their needs change.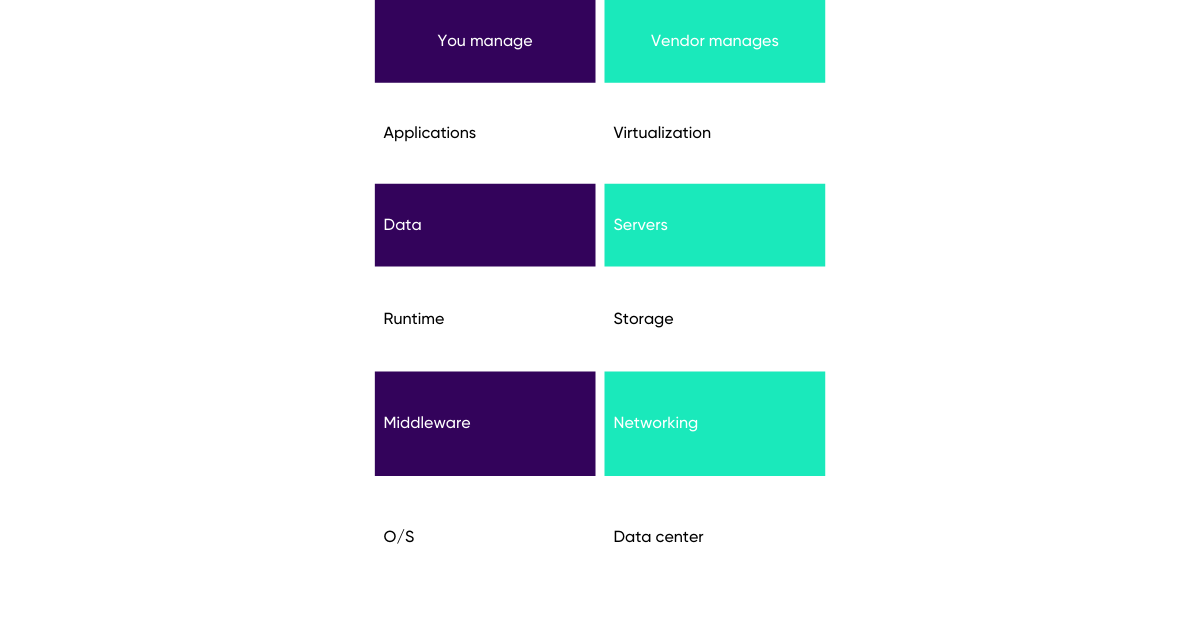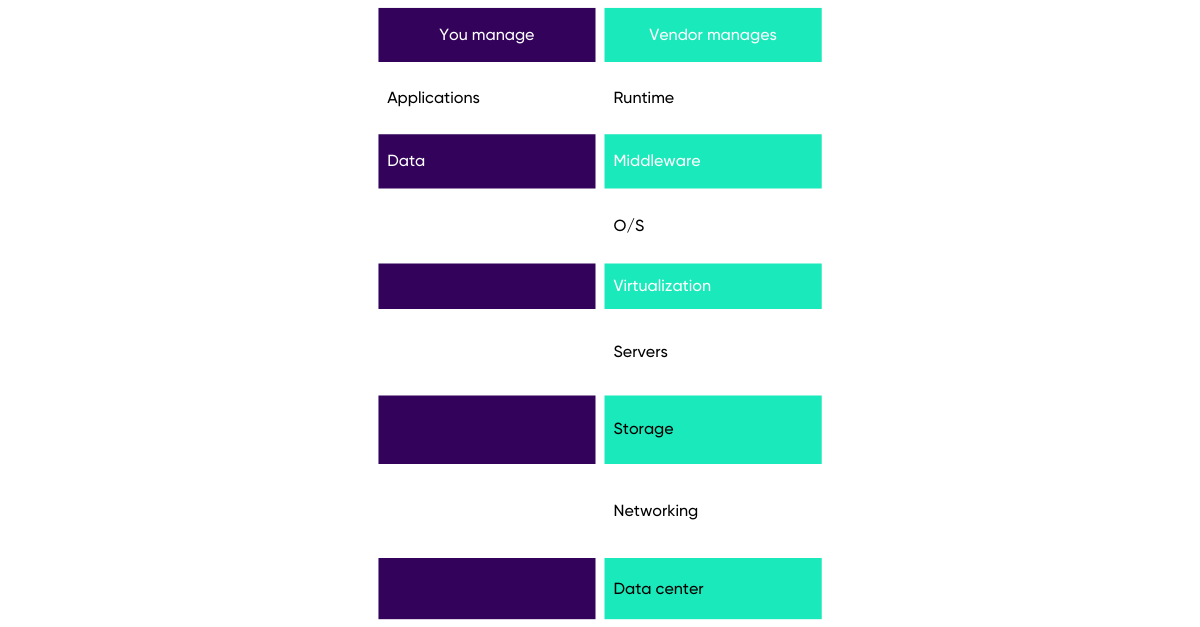 SaaS Cloud – Platform as a Service (PaaS)
PaaS includes additional services to IaaS. In addition to servers, data storage, networks and data center, users also rent all middleware applications such as operating system, database, etc. The provider then takes care of the configuration. This tier is particularly interesting for software developers because it acts as a connector by providing the environments for software development based on the operating systems of the IaaS architecture.
Benefits of PaaS:
Organizations can use the same environment to test, develop and host their applications.
They don't have to worry about managing the security of third-party applications.
Software as a Service (SaaS)
How does SaaS work?
At this level, users have programs available via a browser based on their needs, which means savings on software licensing fees and installation and administration costs.
The benefits of SaaS:
The main benefit to organizations is not having to worry about managing, installing, scaling or upgrading software.
Access to their applications can be done from any device from anywhere in the world.
In 2019, global spending on SaaS offerings was approximately $102 billion.[1] In addition, it is expected to be the most profitable service throughout 2021. According to Gartner's forecast, revenue from SaaS alone in 2021 will be $113.1 billion. In fact, by 2025, 55% of large enterprises will successfully implement a global SaaS strategy in the cloud.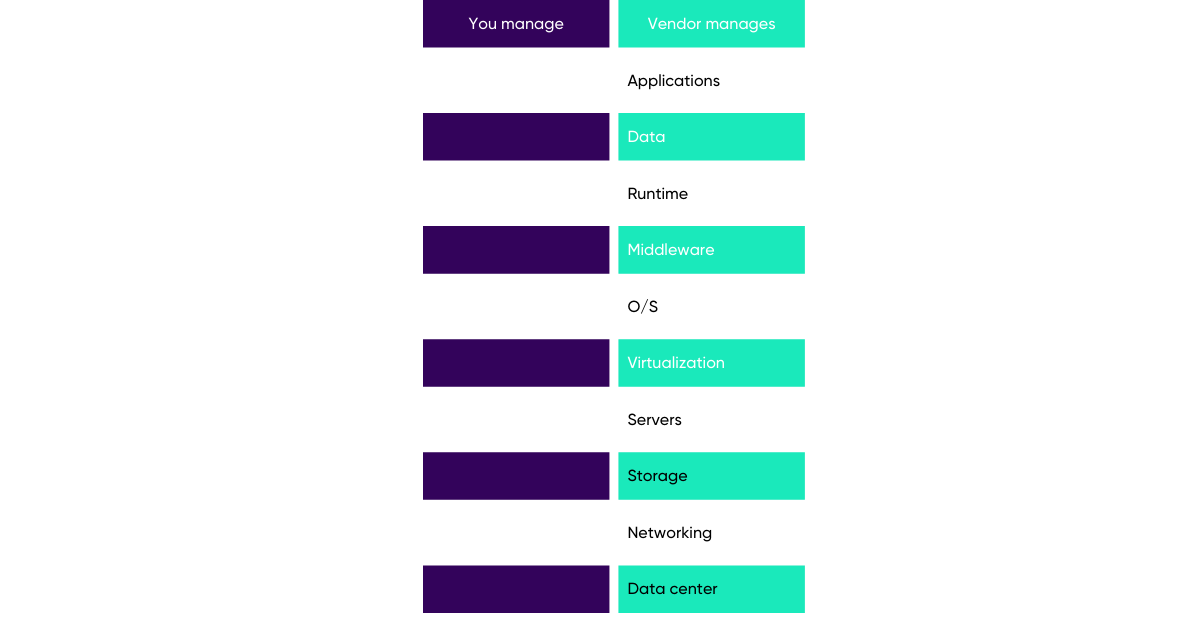 IaaS came in second with $39.5 billion for 2019, followed by PaaS with projected revenue of $18.8 billion. These service models are gaining a lot of traction because of the advantages they offer over on-premises hosting.
Examples of SaaS
The story of a revolutionary SaaS company: Salesforce
Salesforce is one of the most successful SaaS software companies in the world, and its history is very fascinating. In the late 1990s, the concept of cloud computing was non-existent. Marc Benioff and his three co-founders had a vision: to extend the accessibility of CRM software to their customers, anytime, anywhere, through a global cloud infrastructure. They took on behemoths like SAP and Oracle. This revolutionary idea took the entire software industry by storm. In the years that followed, the industry boomed. Salesforce gained many investors, added new services and products to their portfolio, and expanded their markets.
To this day, they continue to rule the SaaS cloud market, with a significant number of customer acquisitions each year. Their recent acquisition of Slack, a popular collaborative as a service platform, further strengthens their position in the market, addressing every possible business need of their customers.
The Netflix model
Other leading SaaS providers include Netflix, an online movie streaming service provider. The subscription-based business model really works in their favor to increase their revenue. Netflix has effective methodologies in place to test their cloud automation and resiliency capabilities. They use the discipline of chaos engineering to randomly disable some of their own virtual machines. They want to ensure that they can survive such failure situations, and respond to them without any impact on their customers. Therefore, to be a good SaaS provider, you have to think of everything and be ready, if chaos strikes.
Thanks to these innovative companies, today we can leverage the greatness of the SaaS ecosystem.
Difference: SaaS or Cloud?
SaaS and the Cloud do not mean the same thing. Both do not require extensive installations, upgrades and maintenance. However, SaaS is only one part of the Cloud universe. With a WAF deployed on a marketplace, you have to manage the software and its updates on a third-party server. However, with a SaaS offering, you don't have to take responsibility for managing the applications. It is true that you have more control with the cloud. If you need a cost-effective solution for your business, then SaaS is the way to go.
Why choose UBIKA Cloud Protector?
A true SaaS platform to manage your business critical applications in today's multi-cloud world
Cloud Protector is a good example of a SaaS offering, deployed and maintained by the provider without the customer having to install it. UBIKA chose the SaaS model to offer its capabilities to the customer because of its ease of implementation and configuration. All you have to do is redirect your application traffic to the hosted IT infrastructure. If web traffic increases dramatically, it quickly rises to the challenge and adapts to your additional needs. The infrastructure takes care of scaling, software updates and platform monitoring. As a result, it has very little overhead in terms of initial costs or other investments.
This offering often comes with a myriad of other benefits such as DDoS protection against volumetric attacks and rapid response to OWASP Top 10. In addition, the consumption-based SaaS subscription pricing makes it an ideal and flexible solution.
With Cloud Protector, the goal is to deliver innovative products and services to customers faster. And the team's experts achieve this by making feedback loops shorter and more efficient. In addition, being hosted in European data centers, Cloud Protector guarantees first-class hosting with the highest possible level of security and ensures compliance with European data protection rules (RGPD). Ready to activate your SaaS mode?